Steve Jobs probably would have liked the Apple Pencil
75
This article may contain personal views and opinion from the author.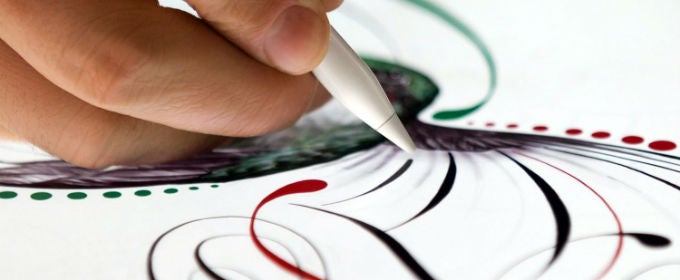 It is very easy, and often quite fun, to rag on Apple for the many times it has said it would never do something only to turn around and do it anyway years later. It happened with the original iPhone; it happened with the iPad mini; and now, it has happened once again with the Apple Pencil for the new iPad Pro. While there are good reasons to call hypocrisy on some of the past infractions, the same outrage may not be warranted this time around.
Obviously, there is no mistaking the words that came from Steve Jobs' mouth when introducing the original iPhone. He said, "Who wants a stylus? You have to get them and put them away and you lose them. Yuck! Nobody wants a stylus." And, he was right about that, but only within the context of what he was talking about.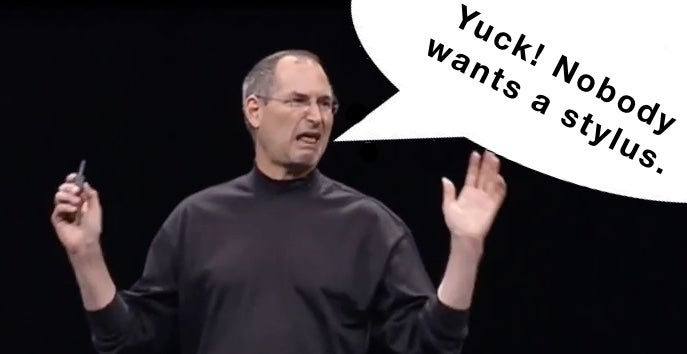 The thing is: Jobs was not making a blanket statement about styluses. He was talking about using a stylus on a 3.5-inch display from 2006 and earlier; though even if he were talking about a modern 3.5-inch display, the idea of using a stylus on such a device should be an abhorrent thought to anyone reading this. But, it is most definitely not going to be used on a 3.5-inch display. Rather, the Apple Pencil is designed for a 12.9-inch iPad Pro, which is nearly 3.7 times larger than the display that Jobs was talking about. Even more, the original iPhone had a resolution of 320 x 480, which sounds prehistoric compared to the iPad Pro's resolution of 2048 x 2732.
All that to say that what Jobs was talking about was a technology (a stylus on a small screen) that was clumsy and annoying and not nearly as good for what people needed to do that what was at hand, literally. As Jobs continued, he made it clear he was talking about what makes for the "best
pointing
device in the world", which he said was the human finger. And, again on that he was right. When using a phone from circa 2007, when the iPhone was first introduced, styluses were predominantly used for pointing and pointing only.
However, the Apple Pencil, while it is a stylus in a certain way, is not a "pointing device" at all. As Tim Bajarin, president of Creative Strategies Inc., said in a new op-ed for
Re/code:
When I saw the new iPad Pro, my mind went back to this conversation with Steve, and I could see his influence in this new product. With the addition of the Apple Pencil stylus and the iPad Pro's ability to use it at the pixel level, the iPad Pro is the kind of tool artists, graphics designers and engineers will love. It gives them a level of control over their projects in precise ways that should make their jobs easier.
Steve Jobs himself may have not been a designer or an engineer, but many who worked with him have claimed throughout the years that he was a leader who knew how to get the best out of designers and engineers. The reason for this can be found in plenty of other quotes that Jobs had throughout his years that would be far more applicable when looking at why he probably would have approved of the Apple Pencil.
For example: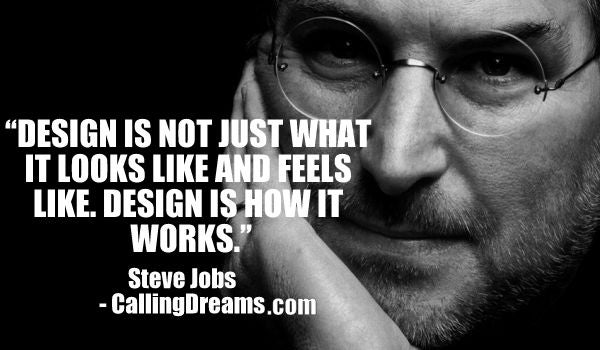 "Design is how it works." That's the essence of both why Jobs hated styluses being used in 2007 and also why he probably would have liked the Apple Pencil. Given the tasks they were needed to do, styluses in 2007 were a bad solution; a necessary evil for a time. Many displays in smartphones before the iPhone were resistive touchscreens, and pointing and tapping on such a display was easier with a hard, pointy stylus than it was to press hard with your finger. Also, given the size of the screens, you often had to hit a target much smaller than your finger, which was also easier to do with a stylus.
But, as Jobs rightly said, the best pointing device in the world is the human finger; we just needed the right display technology to complement it, which is where capacitive touchscreens came in. Capacitive touchscreens (combined with an OS designed for the finger) allowed your finger to do the work much more easily, so the benefits of a stylus were wiped out, and all you were left with were the faults.
The Apple Pencil is not a pointing device, it is a creation device, which incidentally, is why it is called the Apple
Pencil
. A stylus is a tool used to point and tap on a display, or perform rudimentary tasks like jotting notations or drawing arrows, which is about the best you'll get from the
Galaxy Note's stylus
by Samsung's own admission. The Apple Pencil works because it has a fundamentally different job description than a stylus. The described ways you can use it per the Apple website are for if you are "sketching in the park, painting a watercolor portrait, or drafting a blueprint."
That's the job description of a pencil, not a stylus. And, with the advancements made in screen and stylus technology recently by Microsoft with the
Surface Pro
Pen and by the similarly named
Pencil by FiftyThree
, Apple was able to make a device that could perform tasks on a touchscreen device that a finger couldn't. And, that's the big difference: you could perform the same tasks on a Galaxy Note with the S Pen or your finger, which makes sense, because pens generally have more limited use than pencils (outside of work done by the most accomplished of artists). But, the only way to do the things that the Apple Pencil can do is with a more advanced tool - a pencil - be it Apple's or FiftyThree's.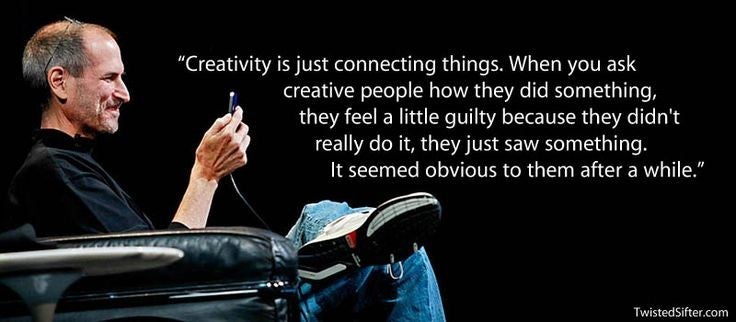 If you're willing to see it, it's pretty obvious that the Apple Pencil is more than just a stylus. It's also obvious that the Pencil is not for everyone, so the $99 price tag, while high, and certainly much higher than the Surface Pen, will only be an issue for a small minority of the public who really want what the device can help them do.
At the end of the day though, Jobs may not have loved the Pencil. It does well enough with the problems of getting it out and putting it away with the magnetic connection to the iPad, but it doesn't do anything to solve the problem of losing it. On that front, Jobs may have wanted something added, like a Bluetooth tracker, but maybe he would have left that out as well, because a lost Apple Pencil is a specialized tool and comes with the equivalent cost to replace one.