Poll results: Will you miss the standard audio jack?
19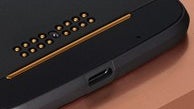 Wow, the results from last week's poll about the demise of the audio jack are pretty disheartening for every phone maker that does away with it completely.
More than 60% of our respondents want manufacturers to leave the standard audio jack where it is, while 17% have simply gone, or are intending to go, wireless. Just a fifth of our 1856 respondents are content with the disappearing of the audio jack altogether, provided that there is an adapter in the box, and we can only imagine the backlash if there isn't one.
The inevitability of it all dawned on us when the
Moto Z
and
Moto Z Force
were announced. Not only do they sport the trendy USB Type-C connector, but the bog standard 3.5mm audio jack is gone now, for the first time in a mainstream phone. Thankfully, there will be an adapter in the box, so all your current wired headphones and other 3.5mm gear will still be available for you to use with the Moto Z, but with time we will seemingly all have to move to USB-C or
Lightning-equipped headphones
. Charging and listening to music? Well, we'll see about that, shrugged the phone makers.