Poll results: How long will you stay with the Galaxy S6/edge?
20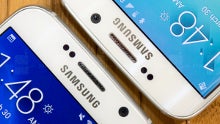 The
Samsung Galaxy S6
and its
S6 edge
sibling with curved display are one of the best Androids you can currently get, offering unsurpassed pixel density and processing power, together with mighty good rear and front cameras. What else could you want from a phone that is on top of all that wrapped in a slim and beautiful premium chassis?
Well, a man's heart is never satisfied, and the mobile industry is in overdrive now, with everyone churning out great handsets at breakneck pace that look no worse than the S6, while this is the
year of premium metal designs
and more than sufficient hardware specs, even for midrangers. Samsung's S6 sales might not be going as planned, especially for the white S6 model which is glutting the warehouses, while a lot more people than predicted are flocking to the S6 edge, putting a monkey wrench in Samsung's logistics machine.
Still, most users are pretty satisfied with Samsung's finest for the year, and this is why we wanted to ask you how long do you plan to stay with your Galaxy S6 gem of a phone - until the S7, longer, or you are already looking around for something new? Well, this was one of the most even splits we've seen in our polls so far. Out of our 1123 respondents just 31% are already looking up to the next great thing on the horizon, while 32% will hold on to their S6/edge handsets at least a year, or until the
S7
hits and they see what it has to offer, while the highest percentage goes to folks looking to keep their S6 at least two year, or the duration of their contract. Overall, this goes to show that folks are pretty satisfied with their choice so far, and who can blame them, given that the S6/edge are perhaps the most spec'd-out devices currently on the Android market.