Samsung already testing Exynos chipset with custom CPU cores for the Galaxy S7?
26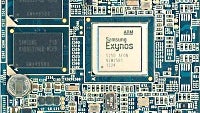 In early April, it was brought to our attention that Samsung doesn't plan to rely on stock ARM cores to keep up with mobile processor evolution. The technological giant is designing custom CPU cores codenamed Mongoose, which will employ ARMv8 architecture. Rumors suggest the silicon is being worked on since 2011 and is currently deep in testing.
We already got to learn elaborate details
, such as the core's reported maximum clock speed (2.3GHz) and preliminary benchmark result that posted 45% better single-core performance than the Exynos 7420 in the Galaxy S6. This means the new CPU could bring the typical doubling of performance over a year, which has become the norm in mobile application processors.
Today, we get to learn that the latest development tools for ARM cores, which include support for ARM Cortex (A17, A72) cores, also come with support for a certain Samsung Exynos M1 core, which we currently know under the codename Mongoose. This confirms that Samsung is hard at work at new CPU cores for its smart products, and goes to suggest that the giant's software development partners are already toying with it as well.
The Exynos 7420-powered Samsung Galaxy S6 & S6 edge have been on the market for less than a month now, but Samsung is already developing custom processing tech for flagship mobile products. Coming up with the next-gen Exynos chip so early means Samsung clearly has plans to incorporate it into the Galaxy S6's successor. Mass production of the chip could begin in 9 to 12 months from now, which sounds appropriate if a Galaxy S7 is to be introduced in the usual March-April time-frame.
It is rumored that the Exynos M1 will feature Heterogeneous System Architecture, employing GPU stream processors for general purpose processing. We have good reason to assume Samsung will be following this path, as the company is a member of the
HSA Foundation
, which unites the industry's leading silicon slingers - AMD, ARM, Imagination Technologies, MediaTek, Texas Instruments, Samsung Electronics and Qualcomm® - around a common approach to heterogeneous processing.