Poll results: Do you think the Samsung Galaxy S6 edge is worth $100 more than the regular S6?
37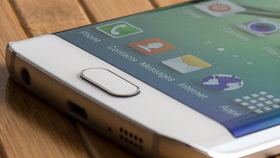 Available to pre-order since March, the
Galaxy S6
and
Galaxy S6 edge
are Samsung's most advanced smartphones to date. They're also the company's first handsets to offer up to 128 GB of internal memory, which means that the most expensive models cost almost $1,000.
Obviously, the Galaxy S6 edge is more expensive than the regular S6. To be exact, it's about $100 more expensive (it doesn't matter if you buy it on contract, off contract, or unlocked).
As you may know, the difference between the regular S6 and the S6 edge is mainly a design-related one: the latter has a curved display that covers its left and right edges, and certainly looks unique among all other smartphones out there. The curved screen does bring some
exclusive software features
, but owners of the regular S6 can perfectly live without them. Perhaps a slightly more important difference is in the battery department:
the Galaxy S6 edge comes with a 2600 mAh battery
, while
the Galaxy S6 packs a 2550 one
.
Not long ago, we asked you if you thought that
the $100 price difference
between the Galaxy S6 and S6 edge was justified. We now have the answers: 44.46% of all voters (1,151 people) believe that the S6 edge is actually worth $100 more, thus the higher price is justified. On the other hand, 55.54% of voters (1,438 people) aren't convinced that paying $100 more for the Galaxy S6 edge is a good idea.
If you didn't manage to vote in our poll while it was still active, you can let us know what you think about the higher price of the Galaxy S6 edge in the comments section.
As a reminder, both the Galaxy S6 and S6 edge will be officially released around the world on April 10.