Poll results: Android L vs iOS 8 vs Windows Phone 8.1 - which of the three will be the most consequential update?
55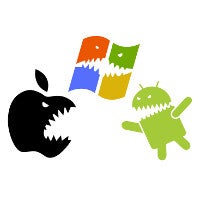 On Monday
we asked you to give a preliminary opinion on what is shaping up to be quite an interesting topic: the last version of which of the three most popular mobile platforms (Android, iOS, and Windows Phone) is on path to becoming the most consequential? Or, in simpler words, which of the three updates will mean the most for its respective ecosystem? As we expected, there was some clash of steel between fans, though some people did raise valid points in the comment section.
We received almost 7,000 votes, and that's not a small number at all. An overwhelming majority, or about 54%, consider the last Windows Phone 8.1 update to be the most important among the three.
We've reviewed Windows Phone 8.1 already
, and tend to agree that Microsoft's platform is gaining ground on its competitors, and that's welcome news. In disagreement are a little over 36% of voters, who think that Google's Android L update is the most consequential. We definitely see their point -- after all, with L Google is adding not just more features, but is also revamping the way Android looks as a whole. With just shy of 10%, Apple's iOS 8 update is last on the list, at least according to voters, though we'd argue that Cupertino is about to make a pretty major step for its ecosystem: open it up. At least a little bit.
Like we said on Monday, even though
we have a pretty good idea of what Android L and iOS 8
are about, it's still important to remember that only Windows Phone 8.1 that is officially available at this point in time. Come launch, Android L and iOS 8 will likely be even better than they are now, so don't discard them just yet.