Android L vs iOS 8 vs Windows Phone 8.1: which of the three will be the most consequential update?
99+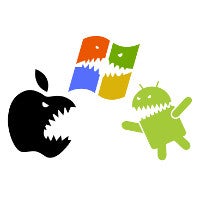 Due to what we suppose are a number a coincidences, it so happens that this year will see all three major platforms go through a major update, whether we're talking about a design overhaul, more functionality, or both. Indeed, all three -- Android with L, iOS with version 8, and Windows Phone with 8.1 Cyan -- are set to become the norm before the year is out.
Usually, we'd argue that such a comparison is unfair and premature both, as Microsoft is already pushing the new iteration of its platform, and select few devices can already enjoy the enhanced functionality of the new software, while the other two are still in beta testing. However, considering the wealth of information provided by Google and Apple on what their new platforms will bring to the table, along with the fact that we've already had the chance of reviewing their respective developer previews in depth, puts you and us both in a position where we can actually try and guesstimate which of the three updates is most likely to shake things up.
It is our opinion that the latest Windows Phone OS iteration has finally caught up with its much more popular competitors, even though there are gaps that still require attention. As for Android L, a platform that has functionality at its core, it would appear Google is finally ready to commit more resources to the task of simply making Android more attractive. Finally, iOS 8 is perhaps the first tangible sign that Apple is finally looking to open up, at least partially, and that's a big deal.
So, out of those three, which one do you consider the most consequential? Vote now and vote true!