Poll: Will you be buying the Samsung Gear S3?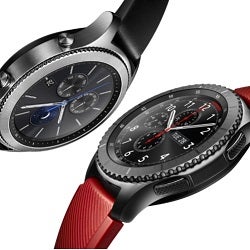 The year of 2016 has proved to be a fairly quiet one for smartwatches, but although the craze and hype surrounding them may have died down a bit since last year, that doesn't mean that there aren't any good choices to choose from if you're on the hunt for a new wearable companion. The
Apple Watch
Series 2 has already proven to be a worthy contender if you're the owner of an iPhone, but if you happen to live on the Android side of the spectrum, Samsung's new
Gear S3
might be right up your alley.
It was announced just yesterday that the watch would officially be up for pre-order in the US starting this Sunday on November 6, but as we learned today, AT&T has already started accepting pre-orders for the device.
The Verge
has also reported that the Gear S3 will officially be available everywhere in the US starting on November 18, and what all this essentially translates to is the fact that the Gear S3 is finally almost here. With that being the case, we wanted to find out what your plans were in regards to getting Samsung's latest smartwatch.
Samsung's Note 7 might have been an explosive disappointment, but the Gear S3 looks to pack a tremendous punch. It comes in two variants - Frontier and Classic - so you've got options if you want something that's rugged or if you prefer a design that looks more like a traditional timepiece. The rotating bezel provides for an easy and intuitive way to interact with the UI, and support for Samsung Pay means that you can use the Gear S3 to pay at virtually any store thanks to its use of both NFC and MST technology.
However, all of that tech comes in at a pretty hefty cost. The Gear S3 will sell for $349.99 for both the Frontier and Classic models, and if you want to get the LTE version on AT&T, you'll need to pay $17.50/month on an installment plan or $49.99 with a two-year contract. The LTE model will also be available on Verizon and T-Mobile, but we've yet to get pricing info for those models.
In any case, with all of that said...