Pocophone F1 or OnePlus 6T: which one would you buy?
26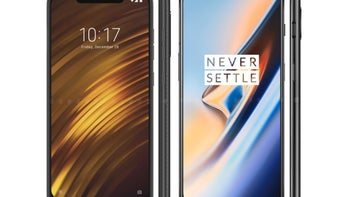 By now, you've probably heard of this weirdly-named
Pocophone F1
. It's made by none other than Chinese giant Xiaomi, who founded the Poco brand to spread its reach in global markets. The first phone to come from that is the Pocophone F1 and what makes it stand out is its incredibly aggressive price. For about $369 in the US, you get a top-shelf Qualcomm Snapdragon 845 processor and a huge, modern-looking (read: has a notch) screen with almost no bezels. Well, it does have a rather unsightly chin, but that's still $369.
Yes, the Pocophone F1 is a bargain for sure, but we've seen this before. Back when OnePlus was first starting out, the company launched the OnePlus One "flagship killer" for a measly $300. That one also had the top-tier specs at the time, which included a Snapdragon 801 under the hood.
Now, OnePlus has grown a lot from the good old days and with growth comes the inflation of prices. The company no longer uses guerilla marketing but actually partners up with fashion brands and popular models to promote its phones, it has support centers and supply chains set up all around the world, and it's even available in the US through an actual carrier (it's T-Mobile). That's pretty huge, but has certainly shown as the OnePlus phones' pricing has went up from $300 to a starting price of $549 for the latest model.
Don't get us wrong, you won't catch us complaining — by today's flagship price standards, the OnePlus phones are a crazy deal and they have improved severely in all departments since being a fledling company. The camera is no longer sub-par, the quality control has been tightening up over the years, the device build materials have that premium feel to them.
But Poco
did make sure to take a jab
at OnePlus. As soon as the
OnePlus 6T
was announced, Poco came out with a "Do the Match" campaign, basically highlighting how everything the F1 has is either on par or better than the OnePlus 6T, yet the phone is considerably cheaper.
Well... is it true? Would you "Do the Math" and go for a Pocophone F1 over a OnePlus 6T?
Note:
for the purpose of this poll, let's imagine that the Pocophone F1 has better LTE compatibility with US carriers. Because, as of right now, it looks like it will be limited to 3G speeds and won't have CDMA support. So, let's just pretend it doesn't have this issue before voting.
Recommended Stories