Play Verizon's 'Find the 8' scavenger hunt game and win one of 256 Apple iPhone 8 handsets
2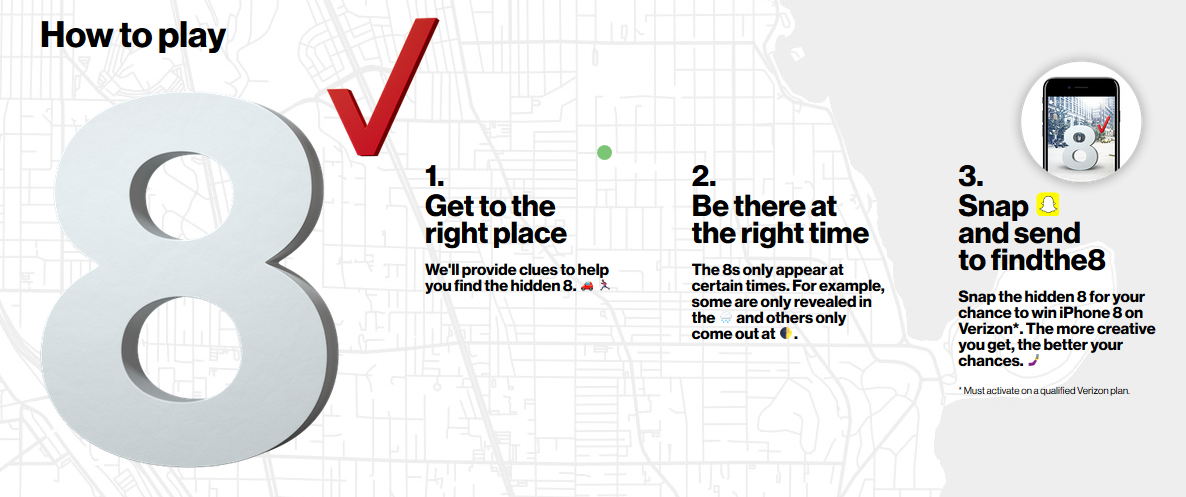 Starting today, Verizon is giving away 256 iPhone 8 units with the Find the 8 game
While no major U.S. carrier is offering a free
Apple iPhone 8
as a promotion, how would you like to win the latest 4.7-inch iPhone from Verizon as a contest prize? Starting today through this coming Friday (September 19th through September 22nd), Verizon is giving you the opportunity to play a scavenger hunt where you can win prizes including the Apple iPhone 8. In eight cities like New York, Los Angeles, Chicago, San Francisco, Seattle, Denver, Dallas and Atlanta, Verizon has hidden a number of "virtual 8s." You will try to track down the location of the 8s by using your wits and augmented reality. In fact, this will be the first AR based scavenger hunt on Snapchat.
Now sit down and take a breath. Eight winners in each of the eight cities will win an iPhone every day! And even if you aren't the first to find a virtual 8 on one of the contest days, you can still win other prizes including a $100 Verizon gift card!
To play the Find the 8 game, direct your browser to vzwfindthe8.com. You will receive clues to find the hidden 8s. These 8s come out only at certain times. When you get to the right place at the right time, the 8 Lens on Snapchat will unlock. Take a Snap of the virtual 8, send it in, and you could find yourself the proud owner of the Apple iPhone 8 before anyone else on your block. Just a note, any iPhone 8 won as a prize must be activated on a qualified Verizon plan.
If you've been dreaming about nothing else but the iPhone 8, this is your chance to make that dream come true. Verizon is giving away 256 Apple iPhone 8 handsets from now through Friday, and one of them might have your name all over it!
source: Verizon