All #madebyGoogle event devices to expect: Pixel 3, Chromecast 2018, and more
3
Pixel 3 event starts at 11am Eastern/8am Pacific/4pm GMT/5pm Central European Time
Google made its Pixel 3 and 3 XL unveiling event official by sending out invitations that include the hashtag #madebygoogle, the one that it uses as a Twitter handle for the mobile gear department. We expect the company to unveil the worst-kept secret in mobile, the heavily leaked
Google Pixel 3 XL
and the smaller
Pixel 3
, plus a 2018 Chromecast model, a tablet, and some more stuff that is listed below.
Notched design for the biggie, a grown-up display for the Pixel 3


By now we've seen the Pixel 3 XL taking a Lyft, being unboxed as Ukrainian contraband, and even chilling in a Hong Kong store, so there aren't many mysteries left about it. The phone is expected to carry a notched-screen sized at 6.3"+ and will be powered by the Snapdragon 845 Mobile Platform. A 4GB of RAM and 64GB of native storage combo should be inside. As usual, Google will show you how one lens can be as good as two by deploying a single 12MP sensor on the back. The Pixel 3 is expected to feature a 5.5-inch un-notched screen and the same specs. Both models will support wireless charging and have Android 9.0 Pie installed.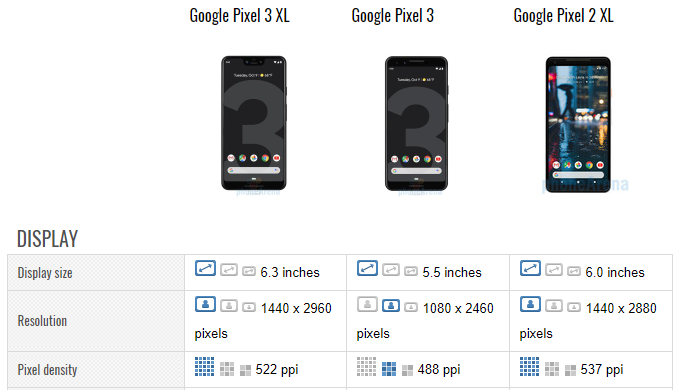 Google Chromecast 2018
Matte surface, Bluetooth connectivity, same great price
After someone
got the thing from Best Buy
, now it's the turn of a Walmart customer to go in, see the new Chromecast, express a desire to buy it, and come out of the store with it in hand. Given that the local Walmart simply used the old Chromecast ID to collect the payment means that the 2018 edition will probably arrive at the same $35 price.
The design has been reworked, though, to include matte surface and a simple "G" logo at the outside. Rumor has it that Google has eschewed the magnetic end that allowed you to keep the dongle and connector tightly packed together, but we'll have to wait and see what tomorrow brings.
We dug up the FCC ID of the new Chromecast, and it has been granted approval as a "multimedia device" at the end of July. The obvious new thing in terms of features is the addition of Bluetooth connectivity, perhaps for wireless headphones, game controllers and the like. This has been the most requested new feature for Chromecasts for a while now, so we are glad to see that Google will deliver.
Shake in your boots, Apple iPad and Microsoft Surface
There is every indication that Google will surprise us with a new 2-in-1 device, dubbed the Pixel Slate, too. Coming with a detachable keyboard that connects via a pogo pin set, it is meant to take on the IPads and Surfaces of this world, especially if Apple unveils new tablet gear later this month. The Google Pixel Slate is expected to adopt the same 3:2 aspect ratio as the Pixelbook, with conventionally thick bezels and a screen we don't know a great deal about in terms of size or resolution.
What we can see in the leaked press shots below are stereo speakers and a USB-C port, plus a stylus accessory of sorts. The keyboard cover that will go along with the Pixel Slate sports round buttons with a Google Assistant logo, too. There are some wild rumors about Core-i7 processor and a lot of RAM as well as dual-booting Windows, but let's wait until the event takes its flow tomorrow.


Pixel Watch?
Could be, but will be a tough fight against Apple and Samsung
This one is still misty, but a lot of rumors point in a new Wear OS timepiece by Google that may land soon. This is going to be a tough entry, as Apple is already reigning supreme on the smartwatch market with its usual mass-appeal approach, while Samsung is enjoying quite a bit of popularity as well with its excellent Gear lineup of Tizen-powered wearables. Both companies offer good-looking, feature-rich, durable products that are becoming increasingly harder to compete against, so far as the average user is concerned, at least. Google overhauled
Wear OS
completely, though, and it probably won't be in vain.