Pick up a Samsung Galaxy S4 Mini factory unlocked for $499, one day only
24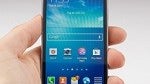 While we do not yet know the official full retail price for the
Samsung Galaxy S4 Mini
, we can safely expect it will be lower than the Galaxy S4's $650 price of admission.
That said, we have spotted pricing for the SGS4 Mini indicating it may be about $600 give or take. If the smaller sized Galaxy S4 appeals to you and you want one right now, you can get a
factory unlocked model for $499
at DailySteals.com.
DailySteals.com is listing the full retail of the Galaxy S4 Mini as $799 which is on some other planet apparently (honestly, it has to be a made-up number). Regardless of the mark-down, $499 it looks like a pretty good deal for what you get.
For $499 you get brand new Samsung Galaxy S4 Mini, Model-I9190, which covers all the major GSM/UMTS bands and might support LTE (depending on the market). You know the rest of the story, and if you don't,
check out our review of the Samsung Galaxy S4 Mini to help you decide
. As of this writing, you have about 21 hours to grab one before the deal (or stock) expires. Click the source link to buy yours.
source:
DailySteals.com