Physical selfies: these are the best smartphone camera printers on the market
2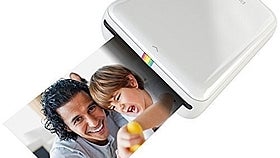 Smartphone camera printers may seem to be counterintuitive in a time when our photos are usually viewed, shared, and stored in digital format. However, the feel of a physical printed photo still finds its appeal to some, which is why there are several smartphone camera printers currently available on the market.
Unlike their full-sized siblings, smartphone camera printers are usually compact products that you can take with you on the go. Naturally, the mobile nature of these printers is a limitation when it comes to the overall quality. As such, if you're looking for the best image quality, you'll probably be better off with a full-sized printer.
If you've decided that you must have a smartphone camera printer, you might as well get the best one around. We've taken the time to scan Amazon in search for the best smartphone camera printers that you can get your hands on in the US, and we're ready to talk about our findings.
Before presenting several mobile camera printers, we'd like to point out that not even the best of printers can make up for a low-quality photo. For the best results, you'd want to snap photos using a phone with a good imaging sensor.