Photos and video of never-seen-before, selfie-centric Sony phone with front flash leak out, will be announced tomorrow
27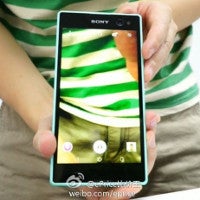 A set of two images of what is claimed to be an upcoming selfie-centered Sony device have leaked out, courtesy of a seemingly resourceful Esato forum boards member,
huiyi
.
According to huiyi -- information corroborated by the Xperia Blog -- the Sony phone we're looking at will be released no later than tomorrow in Taiwan, alongside the
Xperia Z2a
. Both sources also agree that Sony will go along the selfie-taking marketing vertical for the new device. That makes sense, especially since the phone is claimed to sport a front-facing flash -- something that is easy to miss, especially considering the bubbly factory protector on top of the screen. The only other piece of information we can make out from the blurry images is the fact that the phone in question sports a 2500 mAh cell -- in line with most current mid-range Sony phones.
Cashing onto the trendy selfie movement is a relatively new trend for manufacturers, who are just beginning to experiment with the category. We're told that this new Sony device will launch globally, but that's about as much as we know for the time being. Thankfully, if the sources are right, then we won't have to wait long at all to find out more specifics about this new Xperia device.
UPDATE #1: Sony has basically confirmed that a selfie-centric Xperia phone is coming through a tweet. Xperia Blog has also dug out several real life photos of the new device, courtesy of ePrice.
UPDATE #2: Even more photos were made available through ePrice.