Photographer ditches her 35mm camera entirely for an iPhone, see her new portfolio here
65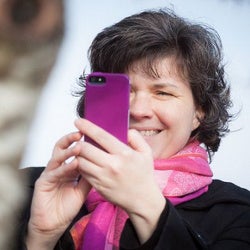 Leaving your full frame, 35mm camera might seem like an easy decision for someone who takes photos as a hobby, but for a professional photographer it might be a life-changing experience. That's what the change felt for Kat Sloma who fell in love with an iPod she was given a few years ago, and that ultimately convinced her to move to using only an iPhone for her photographs.
The switch happened nearly 18 months ago, after Sloma had used a 35mm camera for more than ten years. Mobile devices like the iPod first and the iPhone next provided a quick workflow with rich editing apps like Instagram and Snapseed, enough for Sloma to quickly get hooked and discover the world of iPhone camera apps.
"There's a very different experience for me processing photos while sitting at a computer with a mouse than sitting with a phone or a tablet in a comfortable space,"
she said.
"Using my finger or a stylus has that tactile interaction like drawing or painting more so than sitting at a computer."
Now, she takes all of her images on an iPhone, and edits them on an iPad. Moreover, she has built a business of teaching courses on iPhone photography and editing technique.
Good news is that her photography is also getting quickly accepted by the community. Right below, you'd find her new, truly mobile portfolio, and for all her images and courses, feel free to hit the source link as well.
source:
Kat Eye Studio
via
Statesman Journal