Phones with 1 TB of memory coming down the pipe thanks to shovel-ready resistive RAM tech
39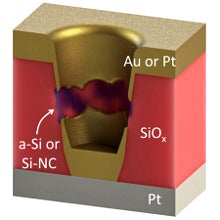 How about carrying all your photos, your music collection and all seasons of our favorite TV series with you at all times, wrapped conveniently in your smartphone delivery system? Deal. Huge storage capacities for our mobile devices are in the pipeline, people, and the latest Rice University invention just piles up on the technologies waiting to wow us in phones going forward.
Most of these discoveries are not ready for prime time yet, or not able to be produced in mass quantities with the existing conveyor belts setup. The Rice U. researchers, however, created a sort of RRAM (resistive RAM) that can be made with current tools, and at room temperature at that, paving the way for its quick adoption by manufacturers. Five years in the making, the technology now involves the almighty silicon oxide (what else), the stuff that
holds promise for the future marathon endurance of our mobile device batteries
as well. The concoction asks for much less power to be operational, has incredible memory density, and heat isn't an issue anymore.
Long story short, RRAM is expected to replace the current flash memory convention with chips the size of a postage stamp that can hold 1 TB of data, and this discovery is shaping up to be at the forefront. The Rice University team hinted that a bunch of memory manufacturers have circled the wagons around the invention, hoping to license it for mass production, so we should expect something tangible fairly soon. All in all, it's good that both iOS and Android moved to 64-bit mobile OS editions, able to address much more memory, as the perspective for lugging around speedy 1 TB in our mobile devices sounds mighty enticing.