PhoneArena Awards 2014: Best product designs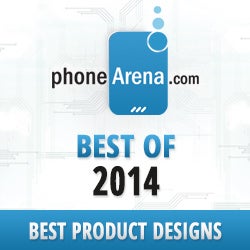 Few are the people who doubt the importance of a first impression. Every new experience, each major first encounter leaves hard-to-erase memories in one's mind. Unless you're trying to remember the name of the cute girl you just met – that's when your brain suddenly loses its ability to hold data – but that's a topic for some other time. What we'd actually like to talk about is design; design, first impressions, and gadgets, to be more specific.
What do these three have in common? Well, imagine picking up a brand new smartphone for the first time. Chances are that your first impressions will be influenced mostly by the product's design – by the way it looks, by the way it works, by whether it feels "right" in your palm or not quite. That's why every self-respecting manufacturer pays close attention to the design of its products. Design is key to a product's success with its ability to spark an instant emotional attachment between a user and the device in question. If executed properly, of course. And we believe that good designs must be honored.
This brings us to today's category in our PhoneArena Awards series – best product designs. We've picked three of the best-designed devices that we had the chance to review this year, but we didn't stop there. We'd also like to honor a beautifully designed piece of software crafted by the creative minds at Google. Drumroll, please!
HTC One (M8)
It was in early 2014 when we reviewed the
HTC One (M8)
only to have our hearts won by its bold, premium design. Today, some nine months later, the phone still excites us with its daring appearance, solid construction, and sophisticated brushed metal finish. It is one of the few handsets that can really make heads turn without even trying hard. And the moment you pick it up, you instantly realize that you're holding something of immaculate build quality.
iPad Air 2
The
iPad Air 2
isn't just a great-looking tablet. It is an astonishing feat of engineering. It came at a time when we were starting to think that tablets weren't going to get any thinner. Yet it shattered our assumptions with its astonishing thinness of just 6.1 millimeters, which made it the slimmest tablet at the time of its announcement. On top of that, it retained the premium feel and no-compromise build quality of its predecessors, sporting a solid metal back in one of three signature colors.
Samsung Galaxy Alpha
The Galaxy Alpha will be remembered as a milestone device in Samsung's history. It put an end to the all-plastic era the company was in and reminded us that Samsung could actually produce beautiful phones made of premium materials. As a matter of fact, we called the Galaxy Alpha the best-looking Samsung smartphone we had ever laid hands on. And for a number of good reasons, including it being the thinnest Galaxy in existence.
Samsung Galaxy Alpha
Software: Android 5.0 and Material Design
As we mentioned earlier, we really felt like Android 5.0, with its Material Design overhaul, deserved to be on the list. It treats us to a visual experience that's fresh, engaging, and fun to use. But more importantly, Material Design carries a sense of uniqueness. It doesn't simply build upon the look and feel established by KitKat – it catapults us into a brand new chapter in the evolution of Google's design language. It brings character that previous Android releases simply lacked. The result is a platform that does a great job at separating itself from the competition's offerings with its welcoming character and distinct personality. If it could only appear in its vanilla form on more than just a handful of Android devices...