Phone beeping and ringing like crazy? Maybe you will be able to just slip it into this jacket
3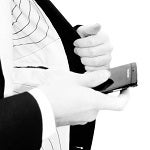 A designer in England has a novel idea for those whose devices start sounding off at the most inopportune times. Victor Johansson's design embeds a Faraday cage into a jacket.
It is called the Escape Jacket and it may come in handy if you head into a meeting. There is no need to turn off or silence your phone, just slip it into the pocket, and the embedded NFC chip will turn off the antenna (saving battery life), and the Faraday cage built around the pocket will block all radio signals from reaching the device until you remove it from said pocket. Maybe you would like to have some breathing room for the ride home or just need to disconnect, there is something to be said about the motion of sliding your gadget into the pocket and not worrying about it for a little while.
It may have limited, but very practical applications. There is no word on whether Johansson will get around to making this jacket for the retail market, but it is a clever and fashionable idea. It also spares you of other
alternatives in our possible future to silence your device should you not want to make a scene
.
Of course, simply turning your phone all the way "off" accomplishes the same thing no matter what you are wearing. Sometimes however, to quote Fernando Lamas, "It is better to look good than to feel good."
sources:
Victor Johnasson
via
Mashable