Pepsi edition Oppo N1 shown in sweet detail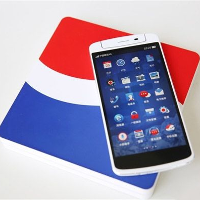 Regardless of where you stand on Oppo, there's no denying that their
5.9-inch N1
has captured the hearts of many, especially those of the phablet-hungry Asian crowd. The Oppo N1 also became the first device to officially support the custom
CyanogenMod
ROM out of the box, in another limited edition batch, and yet it would appear that the daughter company of Chinese BBK is far from being done pushing its newest device. Those of us paying attention to the eastern hemisphere have known of a possibly upcoming Pepsi version of the Oppo N1 for a while now, though it wasn't until today that we actually saw what it would end up looking like.
The special edition N1 sports a specially-made case with Pepsi's signature blue & red, though at this point in time, we're unaware of any extra software customization (apart from the Pepsi theme) that would go with the new edition. The advertising campaign doesn't end with a re-colored N1, however, as you can actually win the device by simply drinking Pepsi. Unfortunately, it would appear that this is a China exclusive, and we're fairly sure it's going to stay this way. Regardless, it's interesting to watch how the marketing minds over at Oppo are trying to draw attention to the company's wares, and so far their unspecified investment seems to have paid off.
FEATURED VIDEO
Check out our
in-depth Oppo N1 review here
.
Oppo N1 Pepsi edition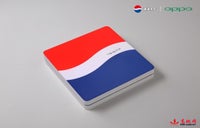 via:
GizChina
,
Gaodi