Pebble smartwatch sold 275,000 units prior to Best Buy sellout
6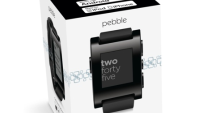 The Pebble smartwatch has been setting records since it raised over
$10 million
on the Kickstarter crowd-funding site. Despite problems that were
killing off particular units earlier this year
, a majority of Pebble owners love the watch,
especially since an SDK was released for the device
which allows third party developers to offer alternate faces and apps for the smartwatch.
On Thursday, Pebble Technology announced that it had sold 85,00 units through its Kickstarter campaign, and another 190,000 pre-orders were received through Pebble's website. And that was all before the smartwatch sold out during the weekend after being put up for sale at Best Buy stores. Pebble CEO Eric Migicovsky called it good news for both developers and users of Pebble. For developers, it means that they have the opportunity to distribute apps to more watches. For users, it means that more developers will get involved resulting in more apps to choose from.
One million apps
have been downloaded to date.
While the sell out seems to be good news for Pebble, at least one analyst isn't impressed. Forrester analyst Rotman Epps says that the company provided Best Buy with a limited number of watches in order to create
artificial scarcity
. While this helps create a hype around the watch, "
Ultimately, the product will speak for itself
," the analyst said. Epps is bearish on Pebble's future.
The 275,000 watches sold via Kickstarter and the Pebble website do not represent the number of units actually shipped to end users, and also does not count the sales made through Best Buy. Using Bluetooth, the Pebble smartwatch pairs with a smartphone to allow you to be notified of phone calls, and allows you to view emails and text messages. The company has announced that the next update for its iOS application will come in 2 to 3 weeks and will support Gmail and IMAP email notifications.
The quick sell out of the Pebble smartwatch at the big box retailer has to be warming the hearts of executives at major tech companies like Apple, LG, Samsung, Microsoft and Google. Each one of those manufacturers are expected to introduce a smartwatch some time this year or next.
Apple has already filed for a trademark in various countries
for the name iWatch.
source:
Kickstarter
,
Forbes
via
AppleInsider