Peanut Butter and dog make for a strange test of the Samsung Galaxy S5's IP67 certification
14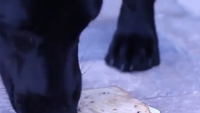 There might be millions of tests that could be made to prove the IP67 certification on the
Samsung Galaxy S5
. You could drop the phone in a pool, take a shower while watching our review on the device, and even drop the phone in a toilet. But we have to say that we had never considered the test that you are about to witness in the video below.
For this test, a Samsung Galaxy S5 was liberally slathered with peanut butter, slapped between two slices of bread, and fed to a black labrador. As you would expect, the dog consumed the bread and licked the phone clean. And even after the pooch's saliva could be found on every square inch of the phone, the device continued to run like new.
So now that you have dog spit all over your new high-end phone, how do you clean it off? Well, if you have the Galaxy S5, you casually toss it in the pool, careful not to exceed the 1 meter (3.2 feet) depth that the phone is certified to survive. And after a long day of testing out your new phone, your handset is running like new. Now if you could only do something about the peanut butter stuck in the speakers.
By the way, you didn't think that the dog was actually going to eat the phone now, did you?
source:
GadgetGuruHD