PayPal launches new and improved mobile app, here is when you can have it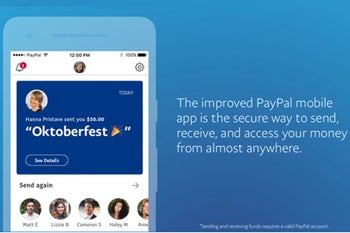 PayPal has just announced it's streamlining its
mobile app
to provide consumers with a fast, simple and secure experience. The first step towards achieving that goal is the redesign of the current app and the addition of a couple of new features and improvements.
Starting today, a new
PayPal app
is making its way to those who already have the older version installed on their Android and iOS devices. The new app is easier to use, especially when it comes to sending and requesting money.
The most important changes in the new PayPal app are the streamlined design that makes it simpler for users to view their balance, get notifications, and move money while on the go, as well as the relocation of the Send and Receive money buttons.
In addition, when sending and requesting money, PayPal made it easier for consumers to add their photo and personalize their contact list. The advanced authentication features, 24/7 fraud monitoring, and instant notifications should also help make customers confident that their transactions remain secure all the time.
According to PayPal, the new app is currently rolling out in select markets such as Australia and Italy, but only on Android. The deployment of the new
PayPal mobile app
will continue to the additional global markets, including the United States, over the coming weeks (both on Android and iOS).