Patent awarded to Google hints at new design for Google Glass 2
11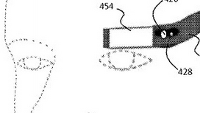 A patent granted to Google earlier this week, might give away the look of Google Glass 2. While the original version of the wearable rested on the wearer's nose, this new design depends on the user balancing it on the side of his/her head. The USPTO documentation says that the device will be used for "receiving, transmitting, and displaying data," just like the OG Google Glass.
The user will be able to configure the device to fit around his or her face, keeping the display above one eye. A prism could be used so that videos could be seen in both eyes. Interestingly, the patent was originally filed by Google in September 2012, long before the Google Glass became the poster child for privacy invasion. With bars, movie theaters and some restaurants
banning its customers from wearing it
, those who sported the connected glasses became known as "Glassholes."
Obviously, all of those fancy plans Google had to distribute the product never came to fruition. And
that amazing video that Google released
to show what it thought the future of Google Glass (then called "Project Glass") was all about, might never happen. Google Glass 2 is said to be focused on the enterprise, and perhaps this is the best course of action for Google. Expectations were too high the first time around, and the bar was set at a height that Google Glass could not have come close to reaching.
The patent awarded to Google is dated November 24th, 2015. It is patent number US 9,195,067B, and is titled "
Wearable device with input and output structures
."
source:
USPTO
via
CNET
,
SlashGear