Palm shareholders approve merger with HP?
This article contains unofficial information.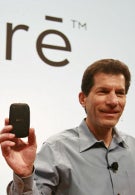 A forum poster over at Pre Central claims to have had a conversation with Palm VP of Investor Relations, Teri Klein. Based on speculation that Palm shareholders have approved the merger with Hewlett Packard, the following things are expected to take place. Palm's assets will join with HP's iPaq unit to form a smartphone manufacturing company that will be led by Palm's Jon Rubinstein. The deal is expected to close in the first week of July and there is plenty of excitement over at Palm for webOS 2.0 and new devices which are being developed. Palm's current lineup is selling slowly. Verizon ordered 1 million units at launch and has not re-ordered this quarter. The Palm executive also noted that AT&T's training with the Palm Pre and Pixi Plus was smoother than the training with Verizon reps. We're not so sure that this is why the webOS devices aren't selling too well at Big Red as the carrier's focus on Android would seem to be more a more accurate reason why the Pre Plus and Pixi Plus are collecting dust at Verizon.. Regardless, the combination of Palm and HP should be able to come up with a combination of software and hardware that will make the industry stand up and take notice.
source:
PreCentral