Palm C40, Sprint's version of the Pre 2, is found alive and in usable form
9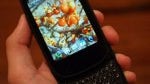 Wow! It's amazing how quickly certain devices can be removed from memory, but in the case of
webOS
in general, it has quickly faded into oblivion – albeit, there's still a
decent community giving the platform some life
. Interestingly enough, we're just hearing about a device that was intended to be Sprint bound, but it never came to fruition.
If you look at the images below folks, you might be surprised to see a Palm Pre 2-ish device, but if you meticulously look closer, you'll recognize that the handset is running on Sprint's network. Yes people, it's none other than the
Palm C40
, which is essentially
Sprint's version of the Palm Pre 2
. Actually, the unit in the images is none other than a
prototype
and was bought from a Palm employee by the team over at WebOSNation.
From the sound of it all, there were no workaround required in getting the smartphone activated and working on Sprint's network. And on top of that, it seems to be handling
webOS 2.2.4
without any major glitches or problems. Rummaging through the handset, it's quite evident that this was on its way to Sprint, seeing there are some Sprint apps preloaded on it as well.
However, as we all know by now, this handset didn't make it to the end of the tunnel, but for now, it's nothing more than a testament of what could've been.
source:
WebOSNation
via
Engadget