Painting of the famous "Ellen selfie" now hangs on the wall at Twitter
25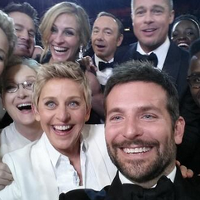 Finally. After about two weeks, you were able to get the image of the famous "Ellen selfie" out of your mind. We knew that it would be hard to do, because
it was the most popular tweet in history
, after all. And while
other selfies have been widely publicized afterward
(we're talking to do you, David Ortiz), none have come close to enjoying the popularity of the selfie taken by Ms. Degeneres during the Oscar telecast, using a
Samsung Galaxy Note 3
.
Not even the word that
Samsung had planned the whole stunt out in advance
, could tarnish the shot. And what brings up that infamous image once again, is a painting of it that is now hanging up at Twitter headquarters. A tweet sent out by Twitter employee Lauren Mitcheom, included the painting and an invitation for Ellen to visit Twitter so that she could take a selfie with employees there.
We know that the honor of having one's image on a postage stamp is reserved to those who have passed on,
like the late Steve Jobs
. But why not make a stamp out of Ellen's selfie? Sponsored or not, it has become a symbol of the widespread use of mobile devices and social networks in the U.S.
source:
AdWeek