Steve Jobs' face to appear on a commemorative postage stamp in 2015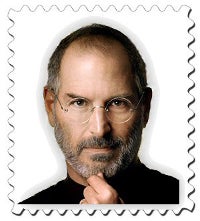 The face of Steve Jobs, the deceased co-founder and former CEO of Apple, is bound to appear on a collectible US postage stamp, a recent US Postal Service list claims. According to it, the design for the commemorative stamp is currently in the works and the finished product will be released by 2015.
Steve Jobs will appear alongside other popular faces, such as Jimi Hendrix, Jim Morrison, John Lennon, and even Barack Obama, whose images are considered to be "contemporary, timely, relevant, interesting, and educational". However, it is unknown what image of Jobs will be featured on the stamp, as the list clearly states that design is still a "subject to change".
source:
The Citizens' Stamp Advisory Committee
via
Gizmodo