PA Reader Awards 2011: current standings
8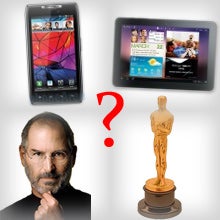 We are only a few days away from the end of the voting phase for our
PA Reader Awards 2011
, so we wanted to throw a quick look at the current standings and see who's been performing best so far.
In the
Best Phone category
, you've shown very strong support for the
Samsung Galaxy S II
, and having in mind the little time that's left (we'll be issuing the results on December 7), we doubt that any of the other competing handsets will be able to overtake it. With less than 50% of the votes given to the Galaxy S II, the
Galaxy Nexus
seems to be the second most-loved smartphone by our readers. Not very far behind however comes the
iPhone 4S
at the third place. Surprisingly, we have the
DROID RAZR
outside of the top 3 for now, but it's actually pretty close to the iPhone 4S, so who knows, it might be able to grab the bronze if its fans decide to participate more actively.
The Apple device is performing much better in the
Best Tablet category
. There, the
Apple iPad 2
has occupied the top spot as of now, but the
Samsung Galaxy Tab 10.1
, which is currently second, still has a chance of gaining the lead. Whether this will happen is another story. Not surprisingly, the
Asus Eee Pad Transformer
has grabbed the third place, and is ahead of the
Kindle Fire
by quite a margin. It may be late for the Transformer to fight its way to the gold, but it can certainly finish second, so if there are some Eee Pad Transformer users out there who haven't voted yet, this is the right time for them to join the party.
Finally, we aren't surprised by what we see in the
Person of the Year category
at all. It looks like Steve Jobs won't give a chance to anyone else, seeing that he's first right now, and with a very healthy lead. Far behind, but with enough number of votes to guarantee the silver, we see Google's Andy Rubin, also known as the Father of Android. It will actually be interesting to see who'll finish third, because there are a few participants who are very, very close to each other. Right now, this is HTC CEO Peter Chou, but just two votes behind, we have NVIDIA CEO Huang. However, Amazon's Jeff Bezos isn't far from scoring a bronze either, as he's also just two votes behind Huang.
As you can see, there's still much that you can change. So, if you think that your favorite isn't getting the deserved attention, the best thing you can do is go to you
PA Reader Awards 2011
post, and vote!
Who'll come out on top? There are only a few days between us and the final results of the PhoneArena Reader Awards 2011, which will be available this Wednesday, on December 7!