Owners of last year's Moto G phones have not been forgotten – Lollipop inbound "soon"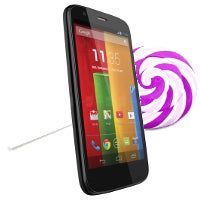 It was last month, when we heard about Motorola initiating Lollipop soak tests for the first
Moto G
. Since then – there's been no official word on updating the handsets to the latest Android. The
2014 rendition
of the device has already been updated to Lollipop, though, while it was
made clear
that last year's model will also get the update, it was unclear when. Today, we get not a hint, but a pretty pronounced wink that the update is coming and Moto G owners have not been forgotten.
It comes in the form of an update for the Motorola Update Services app. In its changelog, one can see that the app needs to be updated in order to be ready for a future Moto G Lollipop upgrade. How far into the future that would be – we can't really tell.
Hardware-wise, the old Moto G is still pretty much on-par with this year's iteration of the model. They both sport a Snapbragon 400 SoC with 1 GB of RAM – the 2014 edition Moto G has a slightly larger screen (5" on the new model, 4.5" on the old), higher resolution camera (8 MP on the new, 5 MP on the old), and a slight bump in internal storage (16 GB vs 8 GB). With such a negligible upgrade, the original Moto G is obviously still quite relevant, and making the decision to keep it is a natural decision. It's good to see that Motorola acknowledges that and will keep its users up-to-date.