Own a piece of the past, Microsoft KIN ONE, on sale for $25
14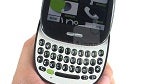 It was not one of Microsoft's or Verizon's brighter moments, but the KIN ONE does have its own special place in mobile handset history. What that special place is, and whether it is a good one or not is certainly up for debate.
Nonetheless, the oddity of the Microsoft KIN line of devices does command some curiosity. Here was a "smartphone" that had no calendar, no microSD support, and no apps.
The KIN ONE and its larger brother, the KIN TWO, were released on May 6, 2010 and were
yanked off the shelves by July 17th
that same year after it was reported that Verizon was only able to
sell about 500 units total
. When something sells that poorly, it actually makes you want to know first-hand why.
Well the KIN ONE can be yours for only $25 free-and-clear. Hey, it may be worth a couple days to swap out your ESN and see what all the hubbub was (not) about. Of course, you will not be able to use any of the social features of the device as the KIN Studio, which was the hub for all social and data feeds to the device as well as a cloud for photos that were taken, was shut down in January 2011. Also do not forget that you will be using 3G/EV-DO for cellular connectivity.
Verizon felt so bad about what KIN owners were contending with that
the carrier offered them a free 3G device
to just put the whole fiasco behind it. Who is not curious by the intrigue? Daily Steals has the KIN ONE up for grabs for $25 and if you want to know more about the device,
check out this blast from the past, as our very own John V.
puts the
KIN ONE
and
KIN TWO
through their paces below.
source:
DailySteals.com
via
WPCentral