Confirmed: Verizon halts all on-line sales of KIN phones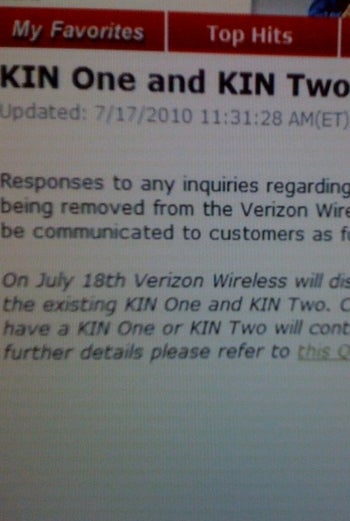 We knew all was not well with the Microsoft
KIN ONE
and
KIN TWO
social networking phones, as sales figures showed only
a few hundred
of units were sold by Verizon Wireless. That was the first nail in the coffin, followed by Microsoft
stopping production
all together, and Verizon lowering their price and enticing people to buy up inventory
with a BOGO sale
just a week ago. This morning,
news started to come in
that on-line sales of the two devices were about to stop completely today, and it appears that is the case, as both KIN phones have now been removed from the Verizon site. Furthermore, one of out tipsters even sent us an image of the internal Verizon system stating "On July 18th Verizon Wireless will discontinue forward sales of the existing KIN ONE and KIN TWO phones", and going on to say that current customers with the devices will still receive support. No surprises here, but lets hope that Windows Phone 7 isn't too far off, as that is the only thing new on the horizon for Microsoft.
Microsoft KIN ONE Specifications
|
Review
Microsoft KIN TWO specifications
|
Review
Thanks to our tipster for the image!