Over 750,000 people have already signed up for a OnePlus 2 invite
31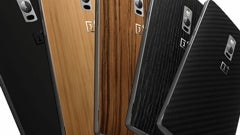 Earlier this week, after teasing and talking about it for months,
OnePlus finally announced
the
OnePlus 2
, its second smartphone. The handset is not yet available to buy, and, when it's going to be (starting August 11), customers won't be able to simply order it like ordering any other phone. That's because OnePlus hasn't ditched its controversial invite system that debuted with last year's
OnePlus One
, so you will need an invite to buy the new smartphone. However, this year, invites are easier to grab.
Here's
how you can get an invite to buy the OnePlus 2
- which, by the way, for the beginning will be available only to customers in the US, Canada, Europe, China, and India. If you don't have an invite yet, OnePlus lets you sign up to receive one when available. Right now, over 750,000 people have signed up, obviously hoping that they will be able to buy the OnePlus 2 at some point. This means that the new handset could easily pass 1 million units sold in no time - assuming OnePlus has enough stock for everyone.
The OnePlus 2 will be sold starting at $329 - this gets you the 16 GB model. The 64 GB variant will cost $389. As previously reported,
OnePlus hopes to sell up to 5 million smartphones
by the end of 2015, and, judging by the attention that the OnePlus 2 is getting, it might reach its goal.
source:
OnePlus