OnePlus sold more than 500k One phones, wants to reach a million sales by the end of 2014
23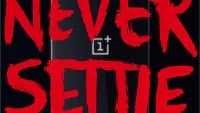 OnePlus' Co-founder and Director of Global – Carl Pei – sat down with Forbes recently to talk business plans, milestones, and stretch goals. He revealed that the company has reached more than half a million sales of its "2014 flagship killer" – the
OnePlus One
– and that it will aim to reach the million units sold milestone by the end of 2014. Pei acknowledged that it would be hard, but in his eyes – it's not an impossible feat. The company did recently drop its invite system in favor of a proper pre-order one, allowing more people to claim their spot in the line for a OnePlus One.
The OnePlus One is a highly competitive smartphone for 2014 due to its powerful, flagship-level hardware at a midrange price tag of $349. Pei said that the company only makes a single-digit amount of profit per unit sold and that smartphone sales is not how the company intends to make money.
Instead, OnePlus will offer various lifestyle accessories to complement its flagship phone – we're already beginning to witness this, with the launch of two various types of headphones – the affordable
Silver Bullet Earphones
and the more premium (yet still carrying an alluring price tag),
JBL-designed E1+ Earphones
. Of course, the company also offers proprietary flip covers, screen protectors, and will be releasing
swappable back covers
for the handset, allowing users to further customize their phone's aesthetics.
Aside from selling physical accessories, OnePlus also intends to build a software and services layer, which will also be a source of revenue. This shift is planned to occur when the company's handset reach a few million users, though, what kind of services Pei has in mind is yet unclear.
Of course, OnePlus probably doesn't intend to reach the few million by just relying on the One. We've heard a couple of rumors of a
OnePlus Two
, codenamed Lettuce, to be in the works and it is expected to be a smaller handset, aimed to cater to those who find the 5.5" screen to be a bit overkill. It is said to arrive some time in 2015, probably mid-year.
source:
Forbes