OnePlus announces its own set of affordable headphones
18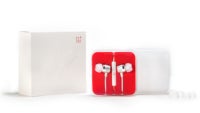 OnePlus, the creator of the
affordable, yet highly spec'd
out
OnePlus One
– has announced its own set of in-ear headphones. It's called the "Silver Bullet Earphones" and will be available at the start of next week, according to the announcement.
The headphones are touted to deliver a "powerful and immersive sound while ensuring a compact yet durable feel", and are encased in a pristine-looking brushed aluminum. The headset has its own remote, which would allow users to control music playback, the phone's camera, and voice calls. It is yet unclear whether these functions will only work with the OnePlus One, or with other Android handsets as well.
Keeping in line with its product philosophy, OnePlus has priced the headset to $15 – let's just hope these don't require an invite system. To celebrate the launch, OnePlus will be giving away 10 sets of the Silver Bullets. To participate in the giveaway, one must be a OnePlus forum member and fill out a form (link to thread can be found in the source below).
Speaking of the invite system – OnePlus has announced that it'll be moving away from it and will
start selling its handsets
via the good old pre-order system. The change should happen around the end of October, when the manufacturer's web shop will finally allow customers to buy the One without an invite. There will be a certain amount of handsets ready to ship, and once they're gone – it'll switch to pre-orders.
source:
OnePlus
via
GSMArena