OnePlus permanently cuts prices on all of its smartphones
5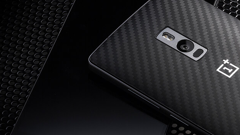 OnePlus announced a series of permanent price cuts today for all of its smartphones. Even if you bought your OnePlus handset two weeks ago, you are going to receive the lower price since the company has made the pricing retroactive going back 14-days. If you do qualify for the new pricing, OnePlus wants you to visit Customer Support at https://oneplus.net/support.
The part of you that sees good in everyone and everything is telling your mind that OnePlus cut prices so that more people in the world can afford their phones. The dark side of you, which manifests as that devil on your shoulder, is telling you that OnePlus is simply trying to move product and lower inventory just before it unveils the
OnePlus 3
,
which is rumored to take place on June 14th
. Once again,
OnePlus will be using VR to introduce its new flagship
, but this time you will be able to buy the new model from a virtual shop.
The Sandstone Black
OnePlus 2
with 64GB of storage is now $299. The
OnePlus X
is $199 in Champagne (the model in Onyx is sold out, as is the
OnePlus One
)
. Remember, these are permanent changes, so there is no rush to make a purchase. In fact you might want to wait to see what the
OnePlus 3
is all about before picking up one of the older models.
source:
OnePlus