OnePlus owners are getting "spammed" with notifications to join a survey to win a OnePlus 5 [Updated]
18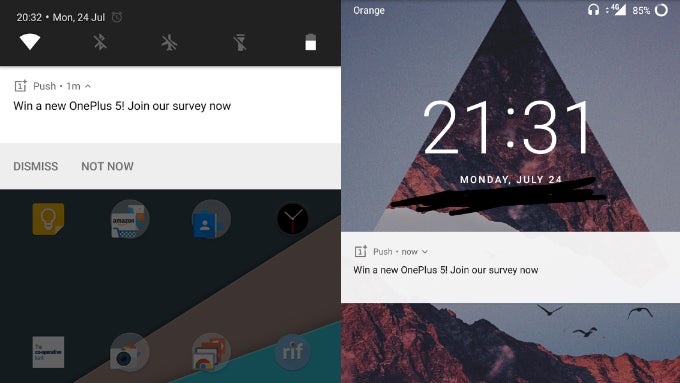 Owners of OnePlus phones have been receiving a lot of these over the last couple of weeks
Around the time the OnePlus 5 was announced, the company started pushing notification to owners of older OnePlus phones to let them know about the new announcement. Now that the phone has been released, the company has again started pushing notifications, though this time around it's sending invitations to join a survey with the chance to win a OnePlus 5.
Although some may appreciate being informed about such events, and then some more may appreciate a raffle with a hot prize, many others are not taking so kindly to what they are referring to as "spam notifications."
OnePlus may not have ulterior motives and may simply be trying to entice users to take part in a customer satisfaction survey that could potentially help improve future products from the brand, but it may very well be shooting itself in the foot by pushing intrusive notifications to so many phones.

What's more troublesome, some users on Reddit claim that they've been receiving such notifications in the order of
tenths
over the last couple of weeks. And what's even more worrisome, there's currently no way of stopping the notifications if you're on the latest stable version of OxygenOS. There's a way of getting rid of the OnePlus Push app altogether, but it involves tinkering with ADB.
Those who are enrolled in the OxygenOS beta program and are running the latest release can block notifications from the Push app by going to "Settings" > "Notifications" > tapping the three-dot menu in the upper right corner > selecting "Show system apps" > "Push" > "Block all notifications." Of course, this will get rid of all notifications coming from the app and not just the "spam" ones.
OnePlus may just be pushing these notifications with the sole intent of getting honest feedback from its customers, but it may be in for a lot of negativity just because of how it's decided to approach users.
Update:
OnePlus has issued an official statement regarding the push notifications:
Feedback from our community has always been at the heart of product decision making and as part of this feedback loop, OnePlus 5 users have been sent a notification to share their personal experiences about the OnePlus 5 with an option to opt-out. This is to help with the continuous improvement of our products and to better understand our community of users.
We thank all those who have taken part.