OnePlus Two plus Two – "flagship killer" company will release two smartphones this year
23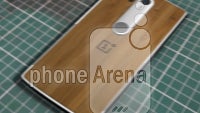 Ah, OnePlus,
how you like to tease
. The company that dubbed its first phone "the 2014 flagship killer", and is touting its soon-to-be-released Two as "
the 2016 flagship killer
" (not a typo) may actually launch another phone this year.
Romanian website Adevarul.ro had an interview with OnePlus CEO Pete Lau. Mr. Lau answers questions on some common topics – the
connection between OnePlus and Oppo
, how OnePlus prefers to sell its hardware cheaply so that it can establish a strong foothold for its brand and profit from accessories, and how the infamous invite system helps to keep the company from overstocking. Then, the interviewer asked the CEO whether the company plans on releasing an even more affordable device, one that doesn't rock flagship specs. To this question, Pete Lau replied that yes, there is another OnePlus smartphone planned for this year, but he is not yet ready to reveal details.
We've heard this rumor a couple of times before – earlier this year, co-founder Carl Pei said that the company is, indeed, working on another product – one that focuses on
premium aesthetics over hardware prowess
. So, seeing as rumors claim that the OnePlus Two will have a sleek,
metal build
– how much more "premium" does the company intend to get with this mysterious phone? As far as specs go, it makes sense that it may be of the midrange variety – if the company were to release another powerhorse in just a few months time, the two might cannibalize each other.
Either way, we expect some more rumors and leaks to cast some light on the mystery handset in the following months. We will keep our ear to the ground!