OnePlus One takes the first steps toward bringing its phone to India
22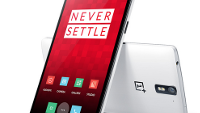 OnePlus has started the journey that will result with the OnePlus One being offered to consumers in India. The manufacturer said that it had seen plenty of interest in the country for its value priced flagship smartphone, and has even posted a job offering, seeking a General Manager for its Indian operations. The company is looking to fill the position with a local applicant.
It has not been smooth sailing for OnePlus with the launch of its first handset. There have been some issues involving certain contests, including
a recent promotion that was scrapped for being sexist
. One issue that the company has been accused of running away from, is a yellowing of the screen, similar to what happened with the
Apple iPhone 4
after that model was launched in 2010
. OnePlus customers have accused the manufacturer of covering up posts related to the screen problem, that were published on the company's website.
Earlier this month,
an update was sent out to OnePlusOne owners that repaired many of the problems
that the phone had been suffering from. The update also offers a cooler calibration for the screen, hoping to remove the yellow tint.
It isn't clear how long it will be until invitations are issued in India for the OnePlus One.
"We've seen tremendous interest from India in the OnePlus One, but to enter the market we'll need the help of a local visionary. You will be the sun, the light that leads OnePlus into the Indian market; the center of orbit for all projects, operations, and service; the ambassador that spreads the OnePlus brand across India like a wildfire.

Personality counts as much as experience here. We're looking for a leader that knows the market, sees issues before they arise, and coordinates resourceful and seamless solutions. The right candidate will successfully incorporate their local knowledge, global experience, and natural talent into building OnePlus operations and brand awareness in India. This position requires authority, leadership, and resolve when things get rough. We need you to weather the storm with us. Are you confident in your abilities and naturally inclined to make things work better around you?"-OnePlus job opening
source:
OnePlus
via
Androidos.in