Could this phone donate its sleek looks to the upcoming OnePlus 6T or OnePlus 7?
22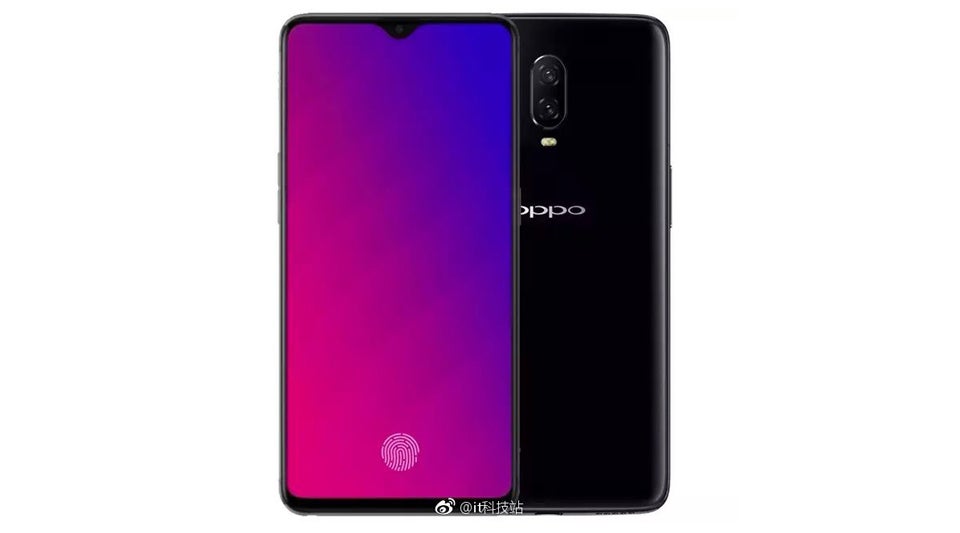 A new leak originating from mainland China seems to be giving us an interrupted early look a Oppo R17, a device expected to be next in line for this Chinese manufacturer's flagship crown. It seems to have sleek bezels on the sides, a somewhat thicker one at the bottom, and what can be described as one of the smallest notches we've seen yet, at least as far as renders go. Unlike other phones, this Oppo R17 has a neatly curved minuscule notch that resembles the Essential Phone's one way more than any other contemporary device, and looks much sleeker than some other atrocities. Like the alleged one of the Pixel 3 XL -
that thing is truly going to be hideous if real
!
Additionally, rumors have it that the device will feature an in-display fingerprint scanner. Seeing that it's missing a rear-positioned one in the alleged renders further corroborates to that story.
Now, why are we even telling you that and why are paying any attention to a handset that isn't going to be available in the US?
Simple. Let us explain.
As you've probably heard in case you've been lurking the blogosphere surrounding smartphones originating from the Middle Kingdom, both Oppo and OnePlus are both owned by the same parent company, BBK Electronics. Despite that they are two separate entities, collaborations between the two companies are not unheard of. For example, the
OnePlus One
shared one too many common traits with the
Oppo Find 7
, the
OnePlus X
and the
Oppo Mirror 5
are almost dead-ringers for one another, and finally, the
OnePlus 5T
could be mistaken with the
Oppo R11/R11S Plus
, and finally,
Oppo R15
and the
OnePlus 6
share too much similarities on their own as well.
We guess you see where we are going with all that - we'd speculate that the Oppo R17, pictures above, could donate some of its sleek looks to either the OnePlus 6T or even next year's OnePlus 7. However, we'd put our money on the OnePlus 6T as the company's T versions usually don't introduce extreme design overhauls but meaningful improvements here and there. An exception to this rule is the
OnePlus 5T,
which was different enough from the OnePlus 5 due to the lack of many hardware improvements. Now, seeing the sleek notch of the Oppo R17 would make us think OnePlus would likely want to achieve a pretty similar look for its OnePlus 6T,
which isn't expected to feature any significant bumps in hardware prowess
.
Of course, we wouldn't expect the OnePlus 6T to be a dead-ringer for the Oppo R17, but we do hope that it scores that in-display fingerprint scanner, which could potentially be a big enough feature to justify an upgrade.
In the end of the day, take everything with salt.