OnePlus 5 vs Samsung Galaxy S8 selfie comparison: Let's go on an adventure
13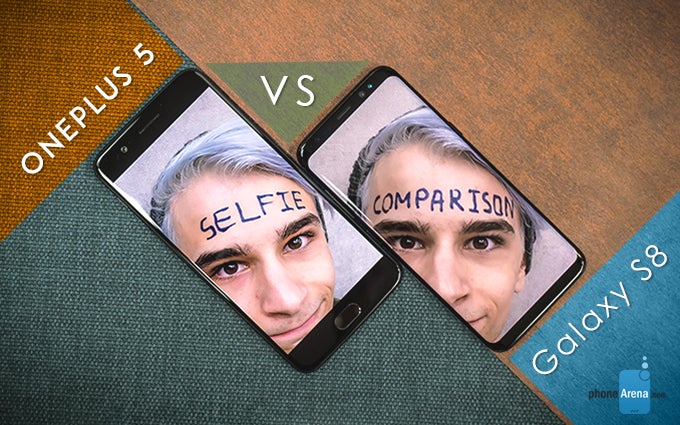 Here's a scenario: you're at a party and someone drunkedly proclaims "let's take a selfie!" Everyone is on board, obviously, despite the terribleness of the idea (it's never fun waking up and seeing those 70+ likes on a picture you don't remember posting). But here's the big question: which phone do you use?
The following article will most definitely
not
answer that question — unless your friends group is exclusively limited to
Samsung Galaxy S8
or
OnePlus 5
users, of course. However, it will hopefully point you in the right direction of what to look at in a selfie (even if mine are far from perfect).
Or to put it in simple terms, I took a whole lot of pictures of myself in a whole lot of places with two of the biggest Android flagships of 2017, and now it's time for both me and you, dear reader, to judge them by every little detail we can fit in a two to three paragraph description.
Scene 1: Leisurely adventures
Winner: OnePlus 5
Oh hey, didn't see you there — I was just taking a break from all the Hard Work I do here at the PhoneArena office. What a coincidence I was sitting right in front of a busy background full of interesting stuff; that would look great if I were to take a selfie or two right there, don't you think?
And if those selfies were to be taken with two different smartphones: say, the OnePlus 5 and the Galaxy S8, I'd probably turn your attention to the fact that these photos are surprisingly similar in terms of quality, though the Galaxy S8's color profile is noticeably warmer and thus slightly unnatural-looking. Or that the OnePlus' photo is noticeably sharper — perhaps an autofocus failure on the S8's part? Theoretically speaking, of course.
Scene 2: Silo adventures
Winner: Galaxy S8
Let's get the obvious out of the way first — this photo is kind of terrible! Namely, the background is ugly and overly bright, while the low angle makes my chin disappear (take your selfies from above your eye level, kids!) However, the difference between the two shots is simply way too dramatic not to be included in this comparison.
In short, the OnePlus 5 seriously crapped the bed with this one: last I checked, the world wasn't coated in a thin layer of greenish-yellow ooze. Though to be fair, this appears to be a simple case of the camera misjudging the scene and applying the fluorescent lighting white balance setting at an inappropriate time.
And credit where credit's due: the 5 once again beats the S8 in terms of sharpness — just take a look at my (horrible) hair roots and you'll notice how much blurrier they are on the S8 pic. Still, the OnePlus' colors are inexcusable, so the win goes to Samsung.
Scene 3: Window adventures
Winner: Galaxy S8
Dark subjects with bright backgrounds rarely make for good shots, but somehow both phones did a commendable job with what they were given. The S8 was better at showing detail from the outside, though this did result in my getting slightly lost in the background (curse, you, pale skin!)
Meanwhile, the OnePlus makes me stand out from my surroundings, while also actually keeping the polka dot pattern on my shirt in focus — the S8's selfie cam tends to focus on one thing only, which in this particular case is my face. This scene is also a great example of the poor dynamic range on the OnePlus, which doesn't just turn the outdoor background almost completely white, but also introduces a weird banding effect where there should be gradients present (note the yellow line on the pillar to the right).
Scene 4: Garden adventures
Winner: OnePlus 5
Hey Samsung, this would have been a pretty sweet photo, don't you think? Yeah, it sure would — if I were in focus, that is. And what's even more interesting, I've got five other takes of the same scene on my hard drive, and each one of them is, for whatever reason, focused on my left shoulder, rather than on my face. Should I be taking this as some sort of hint?
Still, this pair of shots is a great way for one to judge what exactly they're looking for in a photo: realism or pretty colors. You see, the weather was pretty bad when these pics were taken, and the OnePlus' drab and lifeless colors are actually considerably more accurate than the S8's, whose technicolor strokes are easy on the eye, but have little to do with reality.
Scene 5: Train adventures
Winner: OnePlus 5
Sorry folks — all good things must come to an end, which means it's time for me to go. But why not take a final pair of selfies as a way to say goodbye? The shaky and poorly lit train ride would be a great challenge for both the OnePlus 5 and Galaxy S8.
And as it turns out, the latter's focusing problems once again rear their ugly head, all the while the OnePlus maintains comparably razor-sharp details (both were taken with the same exposure time, by the way). However, the OnePlus is once again the one with the yellowish tones, though in this case they serve their purpose better. Plus, my shirt is its actual color in that photo, whereas the S8 has visibly overexposed it.
Conclusion
The big problem with judging this particular duo of cameras is that, at least when it comes to my set of photos (which were deliberately taken in less-than-ideal conditions, mind you), both of them exhibit some quite egregious problems. Sure, they're front cameras — few people expect much from those — but things like refusing to focus on the subject right in front of the camera, or utterly failing to set the correct white balance in broad daylight (which happened in multiple other shots that didn't make the cut, by the way) are both kind of a big deal.
Even if we disregard the score, though (3-2 in favor of the OnePlus 5), it's a bit obvious which problem is the lesser one — the one which can be fixed in post. So while the OnePlus 5 has some pretty bad dynamic range and white balance problems, its messed-up pictures are at least salvageable, whereas the S8's blurriness isn't.