One of the first Verizon iPhones received by a customer in Indiana
37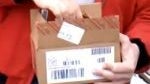 You might not consider this 'news,' per se, but billa9668 is one of the first customers to receive their new Verizon iPhone. While most of the February 3rd
pre-orders
are due for distribution early in the week, billa9668 managed to sweet-talk his local UPS office into letting him pick it up from the local distribution center.
This true Apple fanatic braved the snow to drive to his local UPS on a Satuday morning, just so he could start tapping away at his new device. If we weren't so mobile-obsessed ourselves, we might say that this guy was a little too excited.
But isn't this the kind of anticipation Apple and Verizon are counting on? Verizon already broke their own
sales records
between the odd hours of 3 and 5 AM, so they must be doing something right. When
general sales
open up on February 9th and 10th, we expect swarms of AT&T iPhone owners to be in line as well. We can't speak for AT&T or Verizon. But if the
commercials
are any indication, the iPhone turf-war has only just begun.
source:
billa9668 (YouTube)
via
MacRumors