Verizon iPhone pre-orders are sold out
16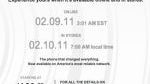 If you figured that you would wait patiently for
Verizon's iPhone
, then you might be out of luck. Verizon's iPhone information page is now saying that they have sold out of their pre-sale stock. That's pretty impressive, considering they only became available as of 3 AM EST on Thursday morning.
The site now directs expectant customers to wait until the iPhone
becomes available
to non-Verizon customers, as of 3:01 AM EST on February 9th. After that, they will be available in select stores starting at 7 AM local time on February 10th.
If the pre-sale shortage is any indication, we recommend that you settle in on Verizon's website before 3 AM on the 9th. Otherwise, you could be stuck waiting in a line with too many people and too few iPhones. But maybe you want to wait in the cold line outside. Who knows? If nothing else, it will show your commitment to the
Big Red Apple
revolution.
source:
Verizon Wireless