One++ is the flagship killer calculator app of Android
8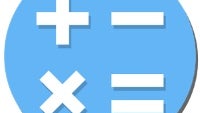 One++ is the hero calculator app that takes a variable from you and calculates everything you need to know to impress that cute math major in the library. The app's bag of tricks includes cryptic, and maybe not so cryptic displays of mathematical prowess. There are over 177 main functions at your disposal, with more than 1000 variables included. All the functionality is sorted in six categories - everyday, math, converter, physics, and economics.
In addition to all that mathematical goodness (or nightmare, make of it what your math skills allow), One++ is a total looker. The interface is inspired by Samsung's later-day TouchWiz menu and its obsession with flat circles laying on a flat background, which means you are in for quite a bit of scrolling up an down, in exchange of having to use what's arguably the most dated interface paradigm of all time - that of the pocket calc. Moreover, One++ freshens things up with 10 scroll animations, four material themes (dark, light, black & translucent), and 5 interface designs to choose from.
If One++ sounds like something that may be of use to you, the app is just one download away, and there are no invites required.