24 hour boycott of Facebook, Operation Faceblock, set for April 11th
39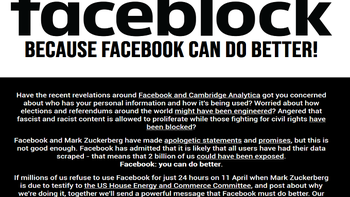 On Wednesday, Facebook co-founder and CEO Mark Zuckerberg will testify before Congress on data privacy. That very same day, April 11th, Operation Faceblock is being held. This is a one-day boycott of Facebook and its associated apps including Messenger, WhatsApp and Instagram. The boycott will run for 24-hours and was created to
protest the use of 87 million Facebook profiles, without permission from subscribers, by Cambridge Analytica
. The use of the personal data without consent of users would seem to violate a decree signed by Facebook with the FTC back in 2011.
A spokeswoman for Operation Faceblock, Laura Ullman, said that the boycott will send a "powerful message" to the social media network that the group is concerned about data privacy. While more than a few have deleted the app as a result of the scandal, Ullman notes that there are many who plan on participating in the boycott, but still like to use Facebook and the other apps under its corporate umbrella.
In addition to staying off Facebook, Messenger, WhatsApp and Instagram on April 11th, Ullman suggests that those who are participating in the boycott also write letters to Zuckerberg and their governments. If you're interested in joining the boycott, go to www.facebookblackout.org.
"We chose the day as we want to show Zuckerberg and also the US government that we want change. It's Facebook's responsibility to manage their platform, but it's also the responsibility of governments to ensure companies protect data and to regulate monopolies."-Laura Ullman, spokeswoman, Operation Faceblock
Before his testimony on Wednesday in front of the House energy and commerce committee, Zuckerberg will
testify before a joint hearing of the Senate judiciary and commerce committees on Tuesday
.
source:
TheGuardian