One AT&T store uses the wrong display for the Samsung Focus S
9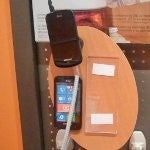 Call it a case of mistaken identity or something else, but it appears as though one AT&T store in Florida is having difficulty in figuring out what the
Samsung Focus S
looks like. Specifically, it seems as though they're using the older
Samsung Focus
as part of the display for the Samsung Focus S.
As much as they share the same name, and also very similar designs, customers who are very meticulous and knowledgeable about their phone stuff would easily discern the difference between the two – yet, this AT&T store is still figuring it all out. Naturally, this isn't a random occurrence, seeing that these kinds of things happen all the time in the retail world.
Meanwhile, another AT&T store appears to be suffering the same issue as they've used a dummy unit of the Samsung Focus on a display case for the Focus Flash. Oh well, at least they have the correct brand on display as opposed to something totally not Samsung.
source:
WP Central