Older LCD technology the clear winner in direct sunlight
This article contains unofficial information.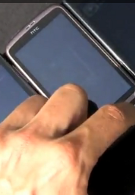 The average Joe may not be able to tell the difference between a Super AMOLED, AMOLED or LCD screen while viewing an Android device inside, away from sunlight. But once you take the phone outside, some screens will wash out, others cannot be viewed at all and some are quite readable under the yellow sun. No sense in giving you all the technology involved, but we can say that the Super AMOLED screen actually uses one less layer than a regular AMOLED display, which reduces the price, raises the brightness, and saves on power consumption. Samsung is currently using this "super" technology on the Android flavored Samsung Galaxy S and Galaxy S Pro, and on its Bada powered handsets. The manufacturer also produces the AMOLED screens that are used by many of the newer Android models like the HTC Droid Incredible, the HTC Desire and the Nexus One to name a few. The Korean firm has been unable to keep up with demand for the display and this has caused the Droid Incredible to have its shipping date constantly pushed back, as we have
reported
.
On to the video. A Sony Xperia X10, representing the older LCD technology, faces off against an HTC Desire with an AMOLED display and a Super AMOLED enabled Samsung Galaxy S. The older LCD screen does the best in direct sunlight, but the Super AMOLED is a big improvement over the original AMOLED screen which is just about useless under these conditions. Does the visibility of the display in direct sunlight play a part in your decision making process, when buying a new cellphone?
Sony Ericsson Xperia X10 Specifications
|
Review
HTC Desire Specifications
|
Review
Samsung Galaxy S Specifications
|
Hands-on
source:
Techblog.gr
(Translated) via
AndroidandMe