Old Motorola X Phone prototype photos resurface
30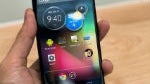 Yesterday, we finally
saw some pics of the upcoming Motorola X Phone
(aka Ghost) that could be verified by our sources as a legitimate prototype of the X Phone itself. Today, we're moving back to the world of speculation a bit, because these supposedly new photos of the Motorola X Phone without the NDA cover aren't new at all, but leaked back in mid-March.
These pictures first came out in mid-March with the claims that the M logo on the rear was touch sensitive. At the time, our source said that claim was most likely bogus. According to our source,
these pictures do show a Motorola prototype, but it is an old one that doesn't necessarily represent the current state of the X Phone
. The prototype that we saw in the pictures yesterday is the device that was being shown off by Motorola very recently. The NDA cover on the device has been compared to an Otterbox case that was physically screwed into the rear panel of the phone itself.
The main difference here is the rear panel. Our source says that prototypes don't always have the same rear panel as the final version, so the old photo leaks could be what the final version will look like. Unfortunately, we can't confirm one way or the other.