Official Path app comes to Windows Phone
8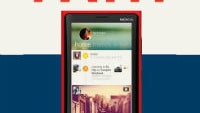 There has been a lot of buzz about new official apps hitting Windows Phone recently, and Path is the latest to join that group. Of course, we'll readily admit that Path is one of the lesser used social networks around, but it does have its supporters (some stats put the number of active users at around 20 million) and some of those supporters may even use Windows Phone.
The app has not been developed by Path, Inc., but it is still considered an official app. It has been developed by nventive, which is a development house that has also been responsible for bringing the official Bloomberg, E*Trade, and The Weather Channel apps to Windows Phone. Even better, Path and nventive worked with Nokia to implement the Nokia Imaging SDK which allows for 50 exclusive photo filters within the app.
Aside from that bonus, you'll get what you expect from a Path app, including journaling your personal life, sharing photos, cross-posting to Facebook, Twitter, Tumblr, and Foursquare, private messaging options, stickers, and tags. The app is still considered to be in the beta stage, but it is free if you want to give it a shot.