O2 to launch new HTC smartphone without a wall charger, says most people don't need one
32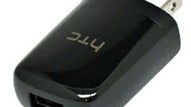 While some manufacturers render existing accessories obsolete by introducing a new dock connector for their phones, other companies are trying to reduce the amount of waste their products generate in a very unusual, yet sensible way. The company in question is U.K. wireless carrier O2, which will soon launch a new flagship smartphone made by HTC. What's interesting about the launch is that the HTC handset in question will not come bundled with a wall charger.
The launch is a part of a pilot program aiming to get the world rid of chargers that nobody needs. And when you think about it, this strategic move actually makes sense, and it is not only because HTC and O2 will be saving money along the way. O2 estimates that
70% of U.K. cell phone buyers already own a compatible charger
, which is not surprising since more and more portable gadgets charge via microUSB ports. And since the aforementioned HTC smartphone will have a microUSB cable included in the set, consumers will have the option to charge it via their computer's USB port, instead of relying on a wall charger. Those who really need one will be free to purchase a charger separately.
As far as the device itself is concerned, there is no word as to what HTC smartphone O2 will use for its eco-friendly campaign. We don't even know whether we are dealing with an Android handset or not. What we do know, however, is that the device has not been announced yet and that it will be worthy of being called a flagship handset. HTC and O2 are expected to release the smartphone by the year's end.