Now you can install the Android Market on your rooted Kindle Fire
8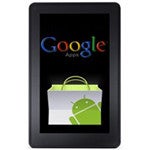 Hackers have been making steady progress on the Kindle Fire, but a fairly important milestone was reached yesterday –
rooted
users can install the Android Market, providing access to all of the Android apps they already purchased through the official market. Prior to this, users had to choose between repurchasing the apps from Amazon's market or installing a
custom ROM
.
Amazon may not be thrilled – they are
selling each Fire at a loss
and hope to make their profit from selling users content. This is a victory for consumers, however, who will most likely still want to use Amazon's services, but not be forced to double-dip on apps they already paid money for.
The method involves connecting you Kindle Fire to a PC and transferring files, which must then be installed in a proper order to the correct directories. You can also install the Google services you would normally find on an Android tablet, including Gmail, Maps, and YouTube. The result is a Kindle Fire that has almost all of the functionality of a normal Android tablet, with Amazon's UI and content at the same time.
Is it the best of both worlds? If you feel comfortable with rooting and manually installing files on your device feel free to explore the sources for detailed instructions. Remember that this sort of thing generally voids your warranty, so tread carefully!
source:
addictivetips
via
Android Authority